Frontex vote: "We need legal routes for migrants as well as border controls"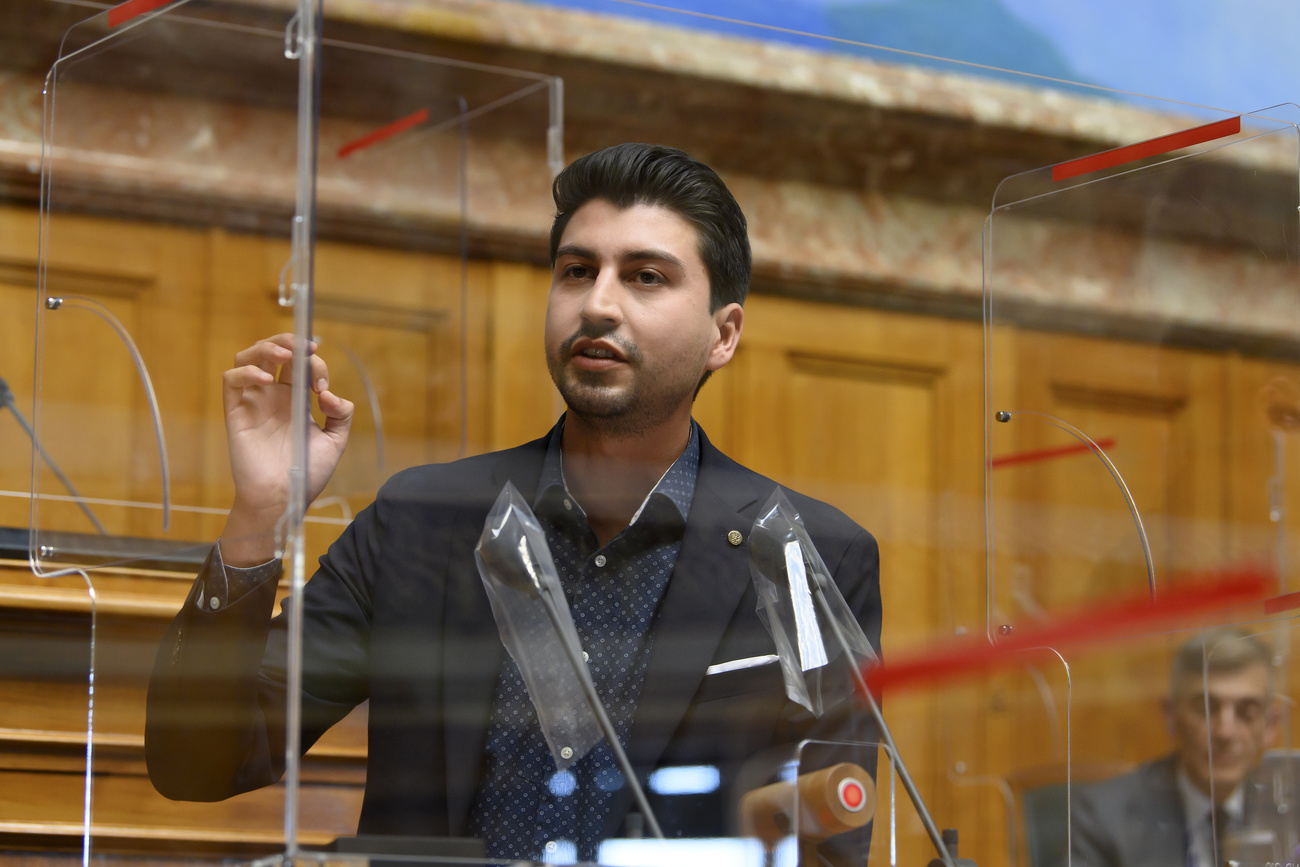 The Swiss will vote on May 15 in a referendum challenging plans to increase Switzerland's contribution to the European border agency Frontex. Fabian Molina, deputy of the Social Democratic Party, protests against the planned increase in contributions. The bill needs to be reworked to include humanitarian safeguards, he told SWI swissinfo.ch.
This content was published on April 30, 2022 – 10:00

As an associate member of the Schengen area of ​​free movement in Europe, Switzerland contributes to the financing of Frontex. The agency's budget has been increased, which would mean an increase in Switzerland's contribution from 24 million francs ($25 million) to 61 million francs per year. The Migrant Solidarity Network and other organizations used a referendum to oppose thisExternal link.
Fabian Molina is a member of the Social Democratic Party of Zurich. The left-wing Social Democrats, together with the Greens, support the referendum. Molina points out that the agency has come under heavy criticism in recent years and calls for border protection to be linked to the expansion of migrant resettlements in Switzerland.
SWI swissinfo.ch: Russia has invaded Ukraine, and Switzerland and the EU have started discussions on their future relationship. Is the timing of this vote rather unfortunate?
Fabien Molina: Given the enormous feeling of solidarity with the refugees from Ukraine that we observe at the moment, it is a good time to discuss Switzerland's responsibility in a future Europe. At stake in this referendum is whether Switzerland wants to pay more money for the EU's border protection agency without simultaneously creating legal routes for migrants. Or do we want to send this proposal to implement the Schengen rules back to parliament?
SWI: The referendum committee is however clearly in favor of the liquidation of Frontex. Is this also the position of the Social Democrats, who support the referendum?
FM: The question of whether Frontex should be liquidated or not is something that could be discussed at length. But that is not the subject of this vote. Instead, it is a question of whether Switzerland should adopt the federal decision on the financing of Frontex as it stands or not. The Social Democrats are clearly in favor of Schengen, but we say: we need more than just border protection, we also need legal routes for migrants.
SWI: supporters of the Frontex billExternal link say that if the increase in Frontex's contribution is rejected, Switzerland will automatically leave the Schengen-Dublin agreements. Do you dispute that?
FM: It is alarmist and it is completely false. There is no such automatic mechanism in the Schengen Agreement. What matters is what the government tells the European Commission. And the government cannot declare that Switzerland no longer wants to be part of an evolving Schengen without asking Parliament. And the Parliament is clearly in favor of Schengen. The Social Democratic Party has already presented a counter-proposal to the Senate on how things could go if the referendum is won: that we could pay our contribution to the protection of the common external borders, but that we would welcome also more refugees. Doing one without the other is not a benevolent position.
SWI: Switzerland is already represented on the Supervisory Board of Frontex. What kind of influence do we have in practice?
FM: It is important that Switzerland remains in Frontex to improve this organization. But it is absolutely unclear what exactly the government is doing on the supervisory board. If we are to drastically increase our payments to Frontex, I expect Switzerland to take responsibility and fight pushbacks, demand reform of this agency and ensure that people no longer have to take the dangerous road through the Mediterranean, but instead have legal pathways to enter Switzerland through the UNHCR [UN refugee agency] resettlement quotas.
SWI: The European Parliament does not want to approve Frontex's 2022 budget. The reasons are accusations from the anti-fraud authority OLAF. Is this a sign of the state of European asylum policy?
FM: We need human rights-based border protection that allows people to apply for asylum. It must also offer particularly vulnerable refugees, for example in Lebanon, a way to be assessed by the UNHCR – and if they are entitled to protection, they should be able to come to Europe. UNHCR has repeatedly asked us to welcome these refugees through resettlement, and various European states have been involved. Switzerland no. Switzerland is not in favor here.
SUI: Your party consistently puts the issue of extended resettlement on the parliamentary agenda but has failed to push it through. Why not?
FM: So far, the People's Party, the Radical Party and the centrist parties have fought against the expansion of resettlement quotas. This Frontex bill was the first time that we came close to linking border protection to legal migrant routes in the Senate. However, the House of Representatives did not want to do anything about it. This is why this referendum is so important – we can say clearly that a European and cohesive Switzerland needs both border protection and legal immigration channels.
SWI: Pushbacks of migrants at Europe's external borders have been widely documented, but they are normally carried out by national authorities. Is Switzerland doing enough in its bilateral structures with European states to ensure respect for human rights?
FM: Border states and national security authorities of course play a horrible role in this. But Frontex does nothing to improve the situation. On the contrary, there are reports of how he conceals this activity or even supports it. Switzerland has not paid much attention to this so far. This must fundamentally change.
SWI: The EU decision to strengthen Frontex also includes a plan to strengthen the protection of migrants' fundamental rights. Is it sufficient?
FM: It's a small step in the right direction. But of course, even in Brussels, people think that's not enough – otherwise they wouldn't have blocked funding. Europe must reform its asylum policy to ensure that refugees are cared for by all Schengen member states and that responsibility is not left to countries on the external borders.
Translated from the German by Catherine Hickley.
Complies with JTI standards
Find out more: SWI swissinfo.ch certified by the Journalism Trust Initiative